Announcements 

If you plan to purchase anything from Amazon.com please use our link to Amazon Smile. Any purchases made through our link to Amazon Smile will result in a donation (from Amazon Smile) being made to the Petersburgh Public Library. Thanks!
 Read it Forward (RIF) Survey
For those youth who participated in the Petersburgh  RIF program (book –

The Paladin Prophecy

) this summer, your feedback would be greatly appreciated.  Please answer the 5 question survey by clicking on the link below.  No identifying information will be requested from you and your answers will help us know whether or not we should do this program in the future.
Click here to go to the survey.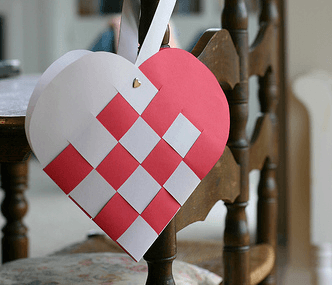 DROP IN VALENTINE'S CRAFT:  TUESDAY FEBRUARY 10TH AT 3:30 – 5:30 OR WEDNESDAY FEBRUARY 11TH AT 4:30 – 6:30 OR SATURDAY FEBRUARY 14TH AT 10-NOON.
WE WILL BE MAKING A WOVEN HEART BASKET WITH CONSTRUCTION PAPER, THEN DECORATING IT.
LEGOS
The library has received thousands of  LEGOS as part of a grant. Let's use them! EVERYONE is invited to come make creations out of LEGOS on the second Wednesday of the month from 4:30 TO 6:30 P.M. The next LEGO night is February 11th.
FELTING WORKSHOP: THE WORKSHOP IS FULL. FOR THOSE THAT CONFIRMED, REMEMBER SATURDAY JANUARY 31, FROM 9:30 AM TO NOON, THE FELTING WORKSHOP WILL BE HELD AT THE PETERSBURGH LIBRARY.  PLEASE REMEMBER YOUR $10 FEE FOR MATERIALS, IF YOU HAVEN'T ALREADY PAID. 
Story Hour for Preschoolers
Story Hour is every Tuesday at 11 A.M. through May 19, 2015 but will not be held on days when school is closed or delayed. All preschoolers and their care givers are invited for stories, activities, and snacks!!
Knit & Crochet Group
Everyone welcome to Knitting Classes at 4 PM on Wednesdays. Come be part of the Knit & Crochet group either as a novice or experienced knitter. Call us at 658-2927 if there is a better time for you to make the class.
Email addresses wanted!
The library is trying to update our patron's information with email addresses. If we have your email address, you will be sent an email notifying you of upcoming due dates on your checked out items and then an overdue notice once an item has been out too long. Please let us know your email address next time you come in. This will help you keep track of your checked out items and when they are due.
 Museum Pass available
MASS MoCA Family pass available – Admits 2 Adults and 2 Children (under 16) for free. Clark Museum pass available – Admits 2 Adults and 2 Children.
Art In The Library
CURRENTLY ON DISPLAY IS THE WATERCOLOR ARTWORK OF ANN LINDSAY. ALL THE PAINTINGS ON DISPLAY WERE DONE ON LOCATION IN THE GREEK ISLANDS OF PAROS AND SANTORINI.  STOP IN THE LIBRARY AND SEE THE BEAUTIFUL PAINTINGS! ALSO, IN THE DISPLAY CASE, THERE ARE SKETCHES DONE BY ANN BEFORE THE PAINTINGS.
Any interested artists, who have artwork or photographs that they would like to display at the library, can call the library at 658-2927. We have wall space to display your art and would love to hear from you. There is no charge to display it here.
Book Discussion Group
The group meets at 7:00 P.M. on the second Wednesday of each month.
NEXT BOOK CLUB: UNBROKEN BY LAURA HILLENBRAND, FEBRUARY 11TH AT 7 PM
The books being discussed are available from the Library so you can read them prior to the meeting.  New members are always welcome to join. Please join us even if you are only able to come once in a while or just want to come for the books in which you are interested.
2014 Top Ten Best Fiction for Young Adults as voted by YALSA
(YALSA = Young Adult Library Services Association)
Berry, Julie. All the Truth That's in Me. Penguin/Viking Juvenile, 2013.
Clark, Kristin Elizabeth. Freakboy. Macmillan/Farrar, Straus, and Giroux, 2013.
Federle, Tim. Better Nate Than Ever. Simon & Schuster/Simon & Schuster Books for Young Readers, 2013.
McNeal, Tom. Far Far Away. Random House/Knopf Books for Young Readers, 2013.
Rowell, Rainbow. Eleanor & Park. Macmillan/St. Martin's Griffin, 2013.
Sedgwick, Marcus. Midwinterblood. Macmillan/Roaring Brook Press, 2013.
Sepetys, Ruta. Out of the Easy. Penguin/Philomel, 2013.
Smith, Andrew. Winger. Illustrated by Sam Bosma. Simon & Schuster/Simon & Schuster Books for Young Readers, 2013.
Sullivan, Tara. Golden Boy. Penguin/Putnam Juvenile, 2013.
Wein, Elizabeth. Rose Under Fire. Disney-Hyperion, 2013.